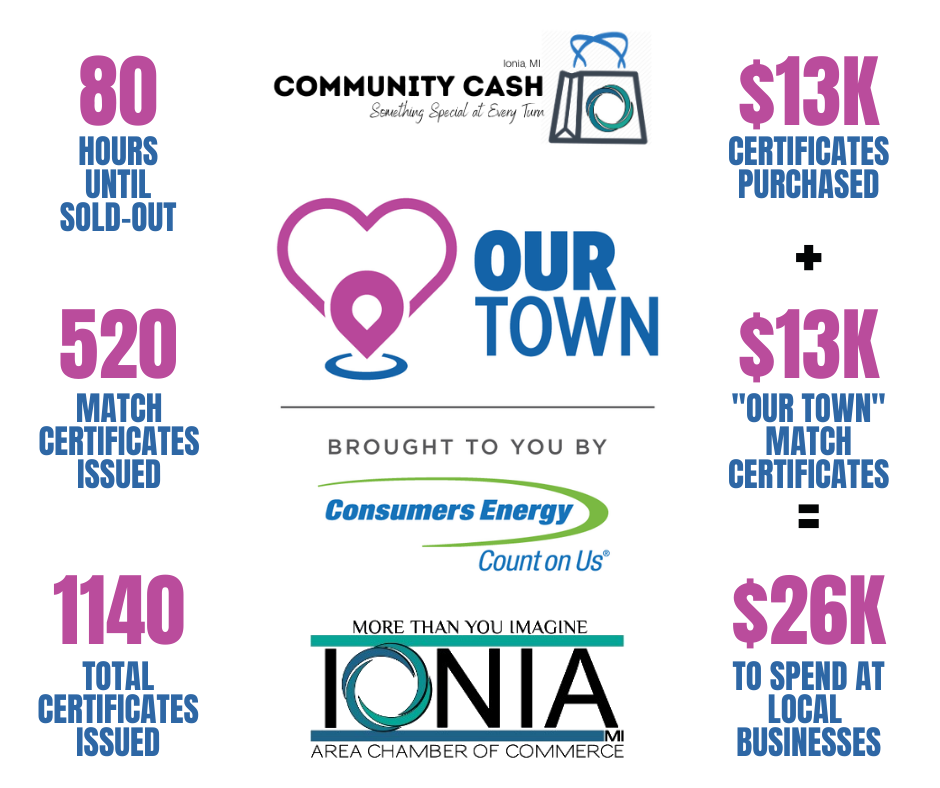 Ionia Community Cash, the community gift certificate is available for purchase 24/7 ~ 365 days a year!
Local Merchants give more back to their communities.
They love you, your schools, churches, clubs and organizations more! Support them by gifting Ionia Area Community Cash to your family, friends, neighbors, staff and clients, teachers and coaches. When they use their gift at a participating merchant, you've done something together that strengthens the whole community!
Purchase your certificates here to be spent at any participating merchant.
We are grateful to Consumer's Energy for taking a meaningful step toward helping small businesses who have been hit hard during the pandemic. "Our Town" puts over $26,000 in the hands of consumers to spend at local businesses that make Ionia a great place to live, work, and play.
This program is intended to help participating businesses now and in the next few months.Certificates offered through this match program expire May 2, 2021
All purchased certificates have a five-year expiration
Purchaser Troubleshooting:

 
**If you requested your certificate to be sent to a Gmail account and have not received your Match certificate (under $95) – Please check your "SPAM" and/or "Promotions" folders. (This may be only computer specific) 
**You will receive 2 emails, one containing  your purchased certificate and the other containing  your MATCH certificate. 
**When you open your pdf (attachment) in each email, you need to scroll through it to see all certificates.  ie: your match will be 4 certificates at $25 in one pdf
**If you receive a PDF error when trying to download your match certificate, please send us an email at info@ioniachamber.net
Advanced Eyecare Professionals
Brick Street Studios
CANDLESTONE GOLF RESORT/WATER TOWER GRILLE & SMOKEHOUSE
CRAFTY KITCHEN CREATIONS
DAN'S BIKE SHOP
DENNY FARM MARKET
DOC ODDS & ENDS CONSIGNMENT
DOOD'S JEWELRY
EL MARIACHI
FULLER'S FURNITURE
HABITAT FOR HUMANITY RESALE SHOP
HAMBLIN BODY SHOP
IONIA LOCK & KEY
IONIA THEATRE
Just Like Home Adult Day Center
Linda's Corner Landing
LUCKY DOG GROOMING SALON
LUXURY JANITORIAL & CARPET CLEANING
MANE STAGE SALON
PAMPERED CHEF—LINDA
 DOWNES
Performance Plus Quick Oil
PROMO PRINT & STITCHES
Renucci's Tavern
RIVERSIDE AUTO WASH
Robin Coon Photography
SALON 6
SEARS HOMETOWN STORE
Shadow Ridge Golf Course & Banquet Center
SID'S FLOWER SHOP
S&K Printing
SOUTHSIDE RESTAURANT
THE ALIBI
THE JEWEL BOX
The Lumber Mill Inn
WOLBERS POSSEHN POOLS PONDS & LANDSSCAPES
WRECKERS SPORTS
YCD ELECTRONICS